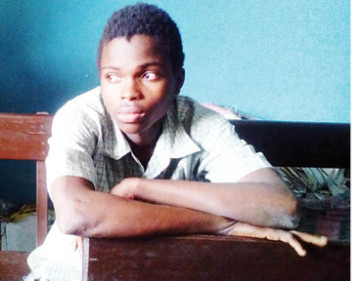 18-year-old Hounvenou Yavine is from the Republic of Benin, He has been arrested for allegedly slitting the throat of the mother of his boss Mariam Abiola.
Yavine came to Nigeria from his country in April and lived with his sister. His sister's husband got him a job at the house of the Abiolas.
Yavine's job at the house was to keep the house clean and follow his employer to her shop where she sells alcoholic drinks.
In May, when the residence of the 78-year-old mother of his boss was demolished, she relocated to her daughter's home. Yavine was then asked to assist with the house chores and take care of the aged woman, instead of going to shop.
One day, Yavine who was home alone with the aged woman, slit her throat and killed her. The Beninese however insists that someone asked him to kill the woman.
His boss reported the crime to the police. Yavine was arraigned before an Ebute Meta Magistrate's Court on one count of murder.
Yavine's case was adjourned till September 8th pending legal advice.