nvestors hoping that Nigeria 's central bank Governor Godwin Emefiele will succumb to pressure to devalue the naira weren't aware of one crucial factor: he has the backing of President Muhammadu Buhari.
In his first public comments on the currency since taking office in May, Buhari, 72, said on Wednesday he opposes a depreciation. His stance endorses Emefiele's policy of restricting foreign-exchange trading to stabilize the naira despite a plunge in oil revenue in Africa's biggest crude producer.
It also raises questions about the central bank's independence and puts the two men at odds with foreign investors, local businesses and some members of the Monetary Policy Committee who say the naira is overvalued, deterring capital inflows and hindering economic growth.
"There appears to be some unwritten agreement between the presidency and the central bank that the naira will not be devalued, in spite of the deteriorating fundamentals," Alan Cameron, an economist at Exotix Partners LLP in London, said by phone. "Neither the presidency nor the central bank governor appear willing to acknowledge the trade-off between a fixed naira and an economy that's functional."
Nigeria introduced rules to limit dealing and prevent dollars fleeing the country as crude prices plunged by more than half from June 2014 to below $50 a barrel. Emefiele, 54, held firm even as central banks from Angola to China and Kazakhstan devalued exchange rates and oil producers such as Russia and Colombia allowed their currencies to depreciate.
During an official visit to Paris this week, Buhari told France24 that it wouldn't be "healthy for us to get the naira devalued" and that the central bank was providing enough foreign exchange for "essential services."
Investors disagree. JPMorgan Chase & Co. last week cut Nigeria from its local-currency emerging-market bond indexes, tracked by more than $200 billion of funds, as concern mounts that the restrictions will dry up liquidity and make it difficult for international investors to sell naira bonds and stocks.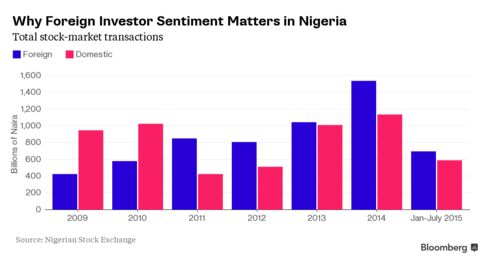 Emefiele's action has contributed to the currency stabilizing at an average of 198.93 against the dollar since March. Forward prices suggest it will fall 12 percent to 226.94 in six months and 21 percent to 253 in a year.
Opposition to Emefiele's stance has grown within the central bank. Deputy governors Sarah Alade and Joseph Nnanna called for a more flexible exchange rate at the last MPC meeting in July, while Doyin Salami, another MPC member, said the moves had undermined the regulator's credibility and "baffled" investors.
President's Approval
"When I met with Emefiele twice last month, I got a sense that he really believed maintaining the current exchange rate policy was important," Kevin Daly, a money manager at Aberdeen Asset Management Plc, which sold all its Nigerian sovereign debt last year, said by phone from London. "I came away convinced that there would be no change."
Femi Adesina, a spokesman for Buhari, said by phone that the governor is unlikely to "just embark on any policy without running it by the president," indicating any adjustment will need the support of Nigeria's leader.
Emefiele has consistently said the naira is "appropriately priced" and that his moves are aimed at curbing speculation. He has also justified the measures as necessary to encourage local production in a country that imports almost all of its manufactured goods.
The central bank's opposition to devaluing the currency bears an "eerie resemblance" to Buhari's previous rule as military leader in Nigeria between 1983 and 1985, said Exotix's Cameron.
Political Pressure
Back then, he used administrative measures to control the naira and rationed access to foreign currency. That led to imports contracting so much that economic growth was "absolutely crushed," said Cameron.
Buhari's preference for a strong naira may be down to politics. A weaker currency would stoke inflation, which already stands at 9.3 percent, and hurt the poor.
"There's no buy-in from the political elite to weaken the currency," David Cowan, an Africa economist at Citigroup Inc., said in an interview in Lagos, the commercial capital. "It's deeply ingrained that Nigeria never benefits from devaluation."
With no cabinet after almost four months in office and little clarity on economic policy, Buhari's stance on the currency may lose him the support of investors concerned that he will limit private enterprise.
"The underlying logic of holding the exchange rate has been completely picked apart in the last five or so months," said Cameron. "The failure of the presidency to acknowledge this is surprising. From the indications so far, it doesn't look like Buhari will pursue the orthodox economic program that most international investors were expecting."
Read More @bloomberg