Election observers from the U.S. and UK who monitored the presidential and National Assembly elections in Rivers said on Sunday that they had concerns about the conduct of the election in the state.
Jennifer Lynne, Executive Director of Contact Project, a U.S.-based organisation, told newsmen in Port Harcourt that the observers monitored the election in six local government areas.
She said the observers observed challenges in the area of availability and security of result sheets.
"In addition, as widely reported, we observed severe challenges due to dysfunctional card readers, causing lengthy delays, voter denial and reporting irregularities.''
Lynne said events that took place in the areas visited would lead to questioning the validity of the results from Rivers.
"We will be making a full report available to INEC as part of the larger observation feedback provided by various organisations around Nigeria.''
The director said the observers were in support of the electorate and democratic process in the country.
"We encourage the leadership, government and security forces to enforce the Peace Accords and allow for Nigeria to be recognised with the international standards of election procedures,'' she said.
Lynne's remarks come just hours after widespread reports by news sources including Channels TV and Yahoo News, stating that APC supporters engaged in protests due to dissatisfaction with the election process.
Thousands of protesters reportedly stormed the streets before storming the INEC office in the state on Sunday.
APC Rivers State governorship candidate, Dakuku Peterside, is said to have stated that:
"INEC in collaboration with (the) Peoples Democratic Party hijacked the materials and were filling them in private homes for the PDP…"Since the results sheets were not available, we did not vote. If there was no voting, there is no way they can declare any result."
Here are some photos from the protests that have been circulating online: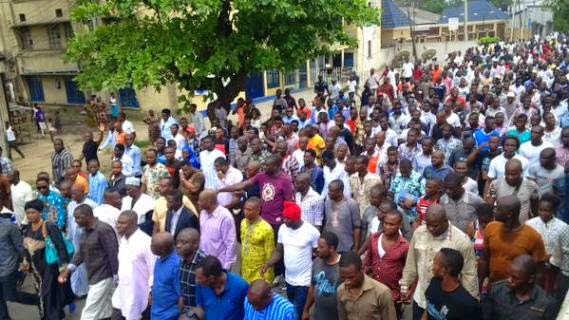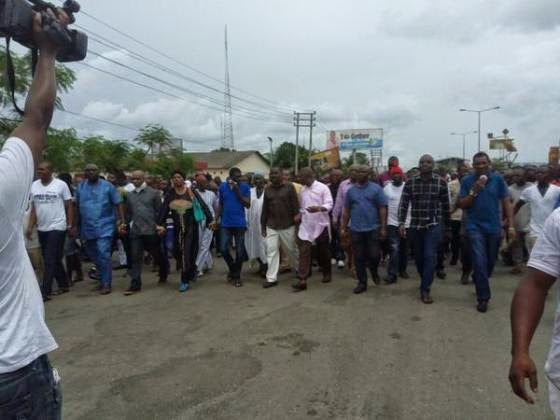 Photo Credit: Twitter