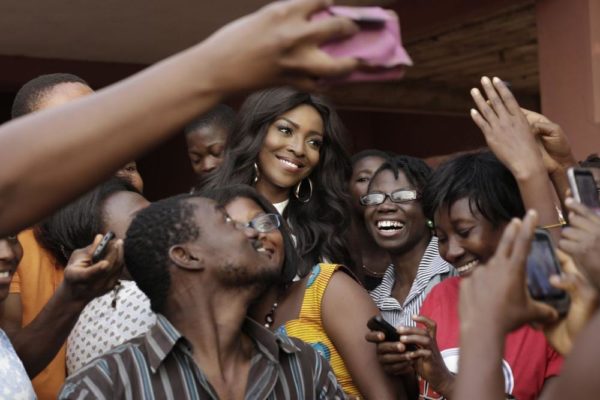 After all is said and done, what truly matters is how we give back to others who may not have means to return the favour.
Recently, Ghanaian movie star Yvonne Okoro encouraged the underprivileged youth to be focused in life and make the right choices in their careers.
The "Contract" actress also advised them not to give up on their dreams of becoming successful people in life just because of what people may think of them.
Yvonne said this and more when she visited the OphanAid Africa's Young Adults Support Services Ghana (YASS Ghana) at Medina, Accra, Ghana on Friday 22nd August 2014.
The non-profit organization helps rescue vulnerable children in need of care, as well as help trace and unite children with their families
She talked about her personal and career experiences, as part of her social responsibility.
Yvonne said;
There's something I learnt which is letting your imperfections shape you into being almost perfect or perfect in human eyes. No matter what CAREER PATH you choose, people would come at you with full force.

People would pull you down because it is in our nature as Human Beings to criticise and to remember the bad that others do, but there is the point where you need to keep your focus and work harder.

You can choose to let people get at you or you could make your mind up to succeed regardless. The truth is, some of the things people say would be true and constructive; but develop an ear with filter.

Filter out those that do not seek to grow you and take on constructive feedback. I challenge you to do this.