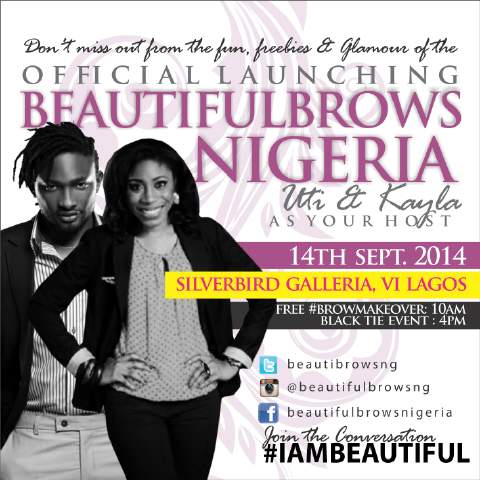 It is indeed a proud moment for Beautiful Brows Nigeria to announce the official launch of the number one franchise of Beautiful Brows UK in Africa beginning with Nigeria. Beautiful Brows is a Specialist UK Cosmetic Company who manufacture and retail bespoke, high quality eyebrow essentials. Beautiful Brows works to ease you the stress of going to the salon or spa to define your brows that's why we have decided to introduce a #DoItYourSelfBrowKit that helps keep your brows in shape.
Giveaway Campaign
Beautiful Brows Nigeria has decided to do a giveaway campaign which started on Thursday to winners of the #IAMBEAUTIFUL Selfie Competition on Instagram which ends on Saturday 13th of September by 12am. To participate all you need do is to follow the Instagram handle – @beautifulbrowsng then upload a defined brows selfie with the Hashtag #IAMBEAUTIFUL @beautifulbrowsng the most liked picture gets to win at the end of each day. The prize is a free #BBNBrowKit and tickets to the launch.
The Launch Event
There will be Free #BrowMakeOvers and Sampling, Renowned Makeup artists Bayo Haastrup and Lola Maja will be unveiling the Beautiful Brows Kit alongside celebrity makeup artist Dave Sucre, Doranne Beauty, Chyka d MUA and Deji Of Sculpt Faces who will be available to apply the #BBNKit during the launch.
Date: Sunday 14th September 2014
Venue: Silverbird Cinemas, Ahmadu Bello, Victoria Island, Lagos
Time: 10AM (Sampling and Demonstration) | Black Tie Event starts at 4PM
To top it up, Kayla of Cool FM and Uti Nwachukwu of Jara TV will be the hosts of the product launch.
Contact
Website: www.beautifulbrows.com.ng
Email: [email protected]
Call: 01-4537950 or 09095967137
BBPIN: 76C42E56
Twitter: @beautibrowsng
Facebook :@beautifulbrowsnigeria
Instagram :@beautifulbrowsng
Join The Conversation: #IAMBEAUTIFUL
6Winners , 4Days GiveAways All Just For the biggest launch in the makeup Industry BEAUTIFUL BROWS NIGERIA #IAMBeautiful