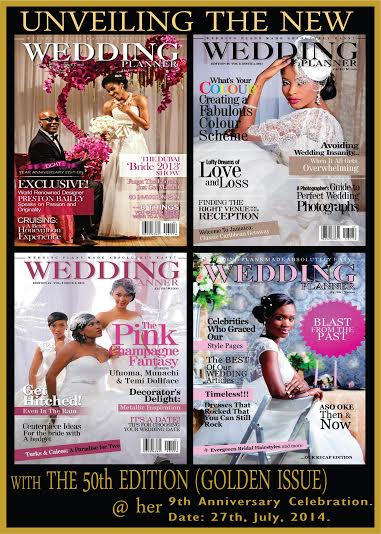 Get on your mark, set and ready to get fabulous for Wedding Planner magazine'sGreat Gatsby themed anniversary! To celebrate its 9th year in print and their Golden issue a.k.a its 50th edition, the magazine will be unveiling the all-new Wedding Planner magazine with celebs and socialites in Lagos.
According to Dupe Adeniran (Editor-in-Chief, Wedding Planner Magazine), the award winning wedding magazine has been redesigned to take on an inspirational, edgy and top notch content, and is now more exquisitely presented. She continued; "As you know, we have so far published 49 editions since inception with consistency in our regular features, columns and contents. As value added to our clients and to reach out more beyond the shores of Nigeria, our E-edition can now be viewed all over the world moving on".
At the top of the program will be be grand unveiling and presentation of the new magazine, with food, drinks and more to be enjoyed.
Be sure to attend and experience the all new Wedding Planner and celebrate 9 years with them.
Date: Sunday 27th July 2014
Time: 5PM
Venue: Elizabeth Philips Marquee, Bics Garden, Lekki Phase 1, Lagos