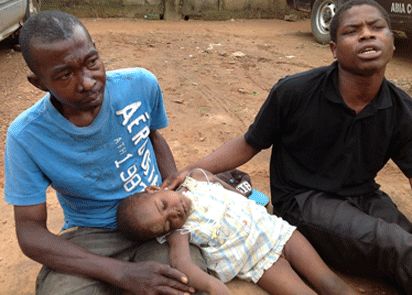 The Nigeria Security and Civil Defence Corps (NSCDC), Abia State Command, arrested two men found with a corpse of a two-year-old girl.
The men identified as Jonathan Nwogu and Chibuike Anubuife were arrested when trying to bury the corpse in an abandoned pit in Osisioma, near Aba. They were nabbed at a filling station near Ariaria International, Aba.
NSCDC's state commandant Andy Dateer paraded the men before the press, and said it was a very sad day for the command.
He briefly detailed how the men were caught. Andy says his men on a routine patrol caught the men in possession of a corpse of a girl of about 2 years old in a sack. The officers were attracted to the scene following a quarrel between the men and a man who brought them to the scene in a car.
Andy revealed that the men will be handed over to the Police for proper investigation, and that an angry mob would have lynched the men if not of the officers who came to the scene.
One of the suspects Chibuile Anubuife revealed that he saw the other man (who brought him with the car) for the first time and he asked him to bury the dead girl, and while discussing the logistics, they were arrested them.
The other suspect Jonathan Nwogu told reporters that a man approached him to help bury the girl.