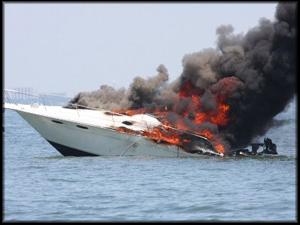 Over the weekend, at least one person died and nine others were left injured when a boat in which they were travelling in exploded around Walter Carrington Way, Victoria Island, Lagos.
According to Sun News, the boat which belongs to Aquitien Oil and Gas Limited is said to have departed from Lekki and was heading towards Apapa before it exploded, trapping all 10 persons on board.
The body of the deceased identified as Emmanuel Onu has allegedly been recovered, while efforts were said to be ongoing to RECOVER
 the bodies of other victims.
The news publication states there are conflicting reports on the actual number of casualties, however; police officers in Lagos maintain that only one person died.
Relatives of the passengers say that are yet to know where those reportedly rescued were taken.
The explosion allegedly occurred when the boat operator tried to refuel before the Mekeun area. "It was in the process of refuelling that the vessel exploded, trapping all the passengers on board." said an eyewitness.
The National Emergency Management Agency (NEMA)'s Public Relations OfficerIbrahim Farinloye also confirmed the incident.
"A case of boat explo­sion that occurred on Fri­day, August 15 2014, which injured several passengers who were immediately res­cued by volunteers and tak­en to different hospitals in Lagos Island, has just been reported to NEMA.
"The boat, which was said to belong to Aquitien Oil and Gas, took off from V-Craft Jetty, Lekki Phase 1 and while trying to refill gasoline at Capital Oil Jetty at Victoria Island, the en­gine exploded. A relative to one Emmanuel Omu, Sun­day Ezugha, called and nar­rated that the owner of the boat, Aquitien Oil and Gas, could not be reached since the incident occurred. Em­manuel Omu has not been found as report indicated that he was rescued and taken to hospital. But his whereabouts had not been known till now," he said.
9 people have been rescued but are injured.
Photo Credit: Google Images