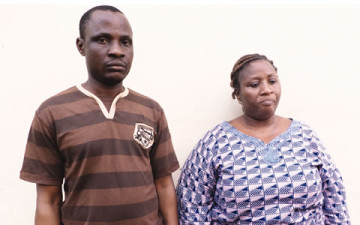 A new kind of Bonnie and Clyde?
Punch reports that a Nigerian couple Danladi Wushishi and Ojuolape Wushishiwere arrested by the Lagos State Police Command for allegedly duping people of more than N20 million in fake auction sales in Lagos.
Ojuolape was arrested on Wednesday 18th June 2014, while Danladi was later arrested at Allen Avenue on Friday 25th June 2014.
The pair were apprehended after one of the victims Chinyere Uzorchukwu sent a petition to the Commissioner of Police Umar Manko. She was allegedly duped by the couple of N5million.
According to reports, the Wushishis collected money from unsuspecting victims under the false pretext that they had a container of goods meant for customs auction sales at a terminal in Lagos.
Danladi and Ojuolape also took victims to a fake customs warehouse in Ikorodu, Lagos, and showed them containers which were sealed. After making the huge payments, the victims waited for their goods which were never delivered.
Police also revealed that apart from the woman who sent the petition, they duped another woman of N3.5 milliom and a man of N14million in the fake auction deals.
Ojuolape says her husband dragged her into the fraud mess, while Danladi confessed to collecting money from the victims.