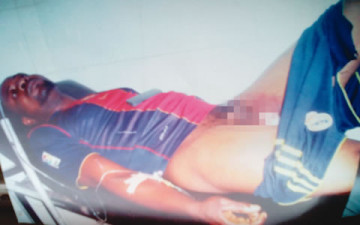 35-year-old Yinka Offehin is a man in critical condition at a private hospital in Lagos because his scrotum was partly cut off by children of his landlady.
Punch reports that in the middle of the night Yinka who resides in Ikotun, Lagos with his wife, was attacked by Solomon and Damilola Olayeye, the children of the landlady.
His wife Bisi tells reporters that, "On Thursday morning, around 3am, while we were sleeping, we heard loud bangs on our door. We initially thought they were armed robbers because the house beside ours had recently been robbed.
When they entered, we saw they were children of our landlady. They began destroying our electronics and other property.
There were two of them. One held a knife in his hand. They took N800, 000. They descended on my husband and he also fought back. In that confusion, my husband shouted and we saw that one of the attackers had cut Yinka's scrotum. I can't say what they used to cut off my husband's scrotum."
One of the landlady's children was able to escape but Yinka despite in pain, held on to the other. Yinka was later taken to a hospital in the morning.
He explained the situation to the reporters when they visited him at the hospital,
"I was asked to leave the house immediately, but after the intervention of the traditional ruler of the community, I was asked to leave by the end of August.
But that decision did not go down well with the children of my landlady and they continued to make trouble with me.
I was already planning to leave their house and had even contacted an agent when they attacked me without any provocation. I want the government to fight for me."
The doctor in the hospital, said Yinka would need up to three months to heal and the area of the scrotum that was torn had been stitched. But if he does not heal, he would have to undergo surgery.
The suspects have been arrested and the father of the children who is a pastor declined to further comment.
The Public Relations Officer of the Lagos State police Ngozi Braide confirmed the story.