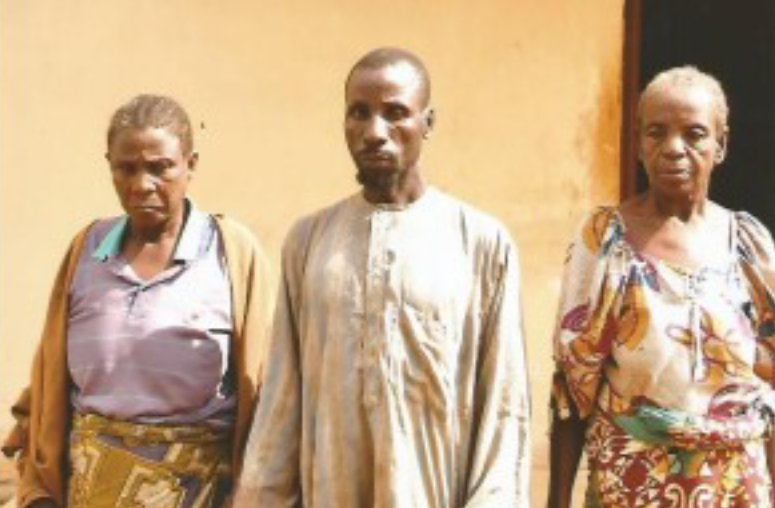 Crazy things happen everyday but this one is bizarre! This is the utmost form of pure wickedness! In all my years of being a blogger, I have not seen a relative do this to
another relative…it's evil!
A woman in Niger state has been arrested for killing and consuming the flesh and blood of her grandson. Leadership reports that the incident occurred at Doso Village in Doko District of Niger State.(continue)
The woman known as Fatima Saraka Mohammed slaughtered her nine-year-old grandson, Mohammed, shared his roasted flesh and drank his blood in connivance with two other people in an apparent act of cannibalism. When quizzed by police officers, the woman confessed that the act was done to satisfy her witchcraft spirit.
The whole thing started when the father of the boy, Mohammed Doko, could not locate his son after he came back from an outing.This prompted to commence an intense search for the boy, a search that went from minutes to hours, and from days to weeks, but the boy was nowhere to be found.
It was gathered that in the process of the search, one of the villagers told the father of the child that he saw the child with his grandmother some days ago, when she was leading him along a nearby bush path.
Doko and some villagers then went to the boy'sgrandmother's place about 50 metres away from his own compound in Doso
village, invariably making it easy for the boy to always be with the grandmother.
Fatima was confronted by Doko and the villagers. At first, she vehemently denied any knowledge of his whereabouts, or
even that she had seen the boy before his disappearance.
After a lot of pressure by the villagers, and threats of calling in the police, Fatima finally caved in and admitted that the boy was taken to a nearby bush where she had invited one Zhitsu Aliyu, a 38-year old man, to help her slaughter her grandson and collect the blood in a bowl, all this in connivance with her friend, Amina Wusa Mohammed. Both of them, she said, belonged to the same cult of witches.
Fatima narrated how she and her collaborators each took
part in drinking young Mohammed's blood and having their share of his flesh after roasting it.
The villagers carefully searched the crime scene and recovered the knife used in killing the boy and the blood-stained clothes confirming the dastardly act.
Consequently, the villagers invited the policemen in Bida division and handed Fatima and her collaborators over to the detectives.